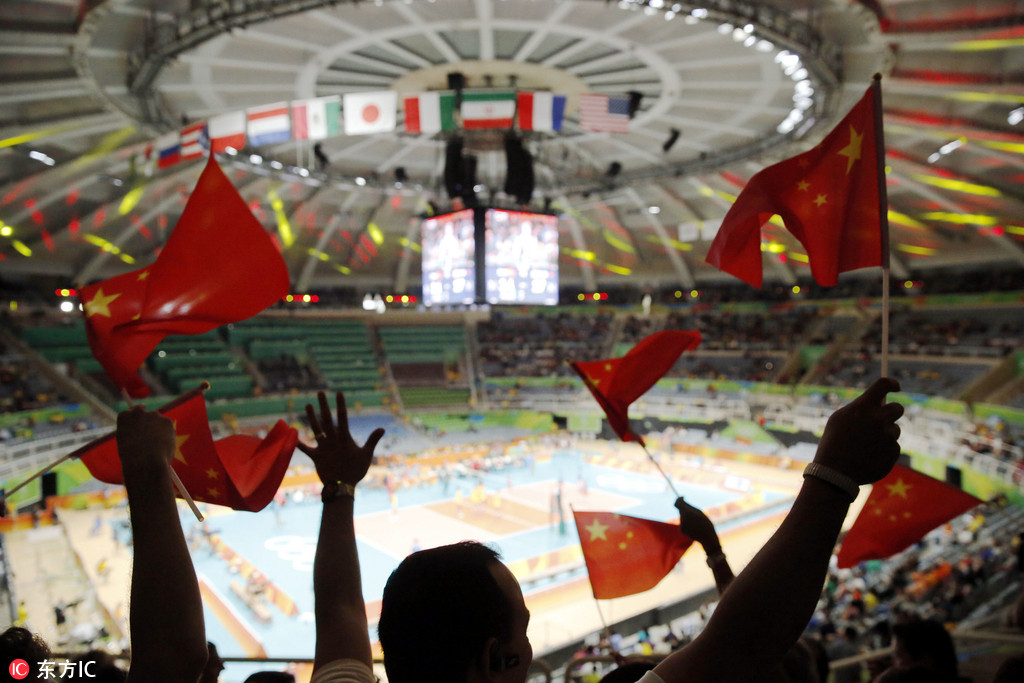 摸鱼儿
--献给奥运健儿
作者 王永利

怅人生、
百年如隙,
当惜年少花季。
休夸他气吞如虎,
来赛场博拼比。
挥汗雨、
向极限冲击,
都不遗余力。
创开奇迹。
纵万险难关,
奈何于你,
冲杀斩荆棘。
争高下,
折桂谁夺荣誉?
豪情千丈方寄。
酣歌唱尽心中梦,
实现那平生意。
回眸处,
不觉已唏嘘,
胜利来非易。
青春无悔,
跌倒也雄奇,
极高快强,
还重在参与。
Tune: Touch the fish
To the Olympic athletes
One sighs the life with feelings,
A hundred years as a flash has gone,
So you had better cherish the youth timings,
Don't praise other people can swallow a tiger down,
All come to the battle field to compete with each other.
Let's sweat like rain,
Challenge the human limitation rather,
All don't spare the efforts contain,
To create a miracle,
No matter how difficult you face,
Nothing can shake you in the circle,
To chop thorns you bravely advance.
Compete with one and another,
Who won the title of glorify?
The heroic feelings each other,
Sing all hearts dream in dignify,
To realize the life goal,
Looking back,
Don't help to sob,
Victory is not easy to hack,
No regrets at younger,
Even if one falls, he is of mighty,
Faster, higher and stronger
Also focus on participation of the society.
春风嬝娜
--奥运颂
看同一世界,
和美一家。
同欢乐,
共荣华。
爱和平,
赛场聚集一起,
力拔山岳,
挥汗晴沙。
燕蹴杆低,
龙飞池短,
跑道腾翔矫健娃。
奋展阳刚力男美,
阴柔还看女娇花。
人类难得盛事,
肤颜各异,
同梦想,
共渡嘉华
息兵刃,
促发达。
言欢握手,
憧憬抒发。
幕布开时,
载歌翩舞,
圣烟熄处,
泪浸鲜花。
刷新奇迹,
创辉煌记录,
和谐友谊,
传遍天涯。

Tune: The Spring Breeze Is Graceful
Ode to Olympic Games
Look at the same world,
It is a family of harmonization,
All people enjoy the happiness,
Together share the splendour and civilization,
Love peace,
All play together to create the miracle,
The weight-lifting athletes seem to lift a mount,
All athletes pour down their sweat in the sand circle,
Jumping like the swallow flying and the rail seems lower,
Swimming like a drogan and the pool seems shorter,
On the runway many healthy athletes compete to each other,
Show the male beauty and masculine force,
Show the female charming as lovely as flower.
A rare event in human history,
Although skin colors are different,
With the same dream,
All share the climax of glory,
All countries cease fires
Promoting the peace development,
All people shake hands,
Dream splendid in the moment.
In the opening ceremony,
All are singing and dancing,
When the holy fire is ceased out,
All are excited with flowers and joy of tearing.
Refresh the miracles,
Created brilliant records,
And the harmonious friendship,
Carry throughout the world.
(作者:中央电视台财经频道制片人、高级编辑。全国广电系统五·一劳动奖章获得者,全国百优人才称号获得者。)